Invitation for Applications for Scholarships to Finalize a Degree
Foreign students at the JGU who have obtained their certificate for admission to higher education not in Germany and who are about to finish their studies are invited to apply for scholarships for degree-finalization financed by the German Academic Exchange Service (DAAD).
For more information click here (english information in the 2nd page)
Survey for incoming Students with problems
Dear international students,
We have created this survey to find out which of the international students enrolled at JGU are still in their Homeland and probably won´t be in Germany for the upcoming wintersemester 21/22. Please sign up if you are not sure if you will be able to come to Germany until mid-October. We want to collect this data to make the university administration aware of this problem and possibly find a good solution.
Thank you very much for participating!
AStA International Mainz & students  representatives FB06
Rally against the exploitation of foreign students
@AuswertigesAmt: It would have been your responsibility to protect the foreign students from fraudulent providers! Stand by your responsibility!
For more information click here.
Link to survey about legal issues
Vaccination offer at JGU
From 07-14.07.21 students will be vaccinated at JGU. Here you can find more information, take advantage of the offer!
Online Workshop about the Unconscious Bias- Dealing with unconscious discrimination
The Coordination Office for Diversity - work area of the Equality and Diversity Office of the JGU Mainz is organizing a workshop with Dr. Lina Vollmer on the topic this coming July 14, 2021 from 10 am - 4 pm.
More info (on german) here
Registration: https://www.diversitaet.uni-mainz.de/anmeldung
Statement to the discriminatory motion of the RCDS´ fraction in the stuident parliament
Call for applications: DAAD scholarship programme "Students at Risk - Hilde Domin Programme"
The German Academic Exchange Service (DAAD) offers the "Hilde Domin Programme".
Foreign Office (AA) the scholarship programme "Hilde Domin Programme". The programme is intended to support students and doctoral candidates worldwide who are who are formally or de facto denied the right to education in their country of denied the right to education in their country of origin, to take up or continue their Germany in order to obtain a degree or doctorate at a German university or a degree at a German university.
For more information, click here (only in german)
Job offer at Caritas e.V.
The aid organization Caritas Mainz e.v. is looking for people who can work as language mediators for the Psychosocial Center for Refugees and Trauma in Mainz and/or Bingen. They are looking for people (especially women) who speak Urdu, Punjabi, Pashto, Somali, Tigrinja, Amharic or Albanian, but other languages are also welcome. The pay is 25 € per hour. The AStA has been assured that neither denomination, nor gender or sexual orientation will play a role in the hiring process and that regular employment protection will apply.
Here is the vacany anouncement (onlz available in german)
Corona Schoolarship
Foreign students and exchange students of JGU are invited to apply for Corona-scholarships financed
by the "Stiftung zur Förderung Studierender und des Wissenschaftlichen Nachwuchses"
(Foundation for the Promotion of Students and Young Academics) of the state of RhinelandPalatinate. This is a one-time call for applications.
For for information click here
Elections (Winter 20/21)
Announcement for the Election of the Autonomous AStA Department of International Students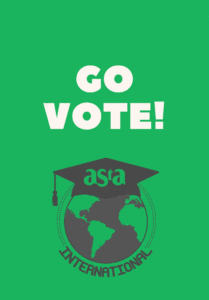 This semester, the election of the AStA Department of International Students will take place through mail-in ballots only.
All international and foreign students at JGU Mainz are eligible to vote.
Starting now, mail-in ballots may be requested from the election committee.
You may email your informal ballot request to autonome-wahlen@stupa.uni-mainz.de from your students email address or mail it to:
Wahlausschuss Referat AStA International
c/o AStA Uni Mainz
Staudingerweg 21
55128 Mainz
Germany
It is necessary that you attach your certificate of enrollment for the winter semester 2020/21 to the respective request. Moreover, please include a current postal address to which you would like the voting documents to be sent and state for which autonomous departmental election(s) you are requesting a ballot.
Requests for mail-in ballots must be received by the election commission no later than 3 February, 2021, at 10 am CET.
Completed (filled out) ballots must be received by the election commission no later than 15 February, 2021, at 3 pm CET.
The following candidates are running for office (in arbitrary order created by lot by the election commission):
1. Peiman Niaei
2. Paolah Buces Alfonso
3. Luis Angel Diaz Molina
4. María de Lourdes Ortega Méndez
5. Daria Neklesa
Up to three votes may be cast. If no candidate is selected, the ballot will be counted as an abstention. If more than one vote is allocated to a candidate, if more than three votes are cast, or if remarks are added onto the ballot, the ballot will be void and the votes will not be counted.
For information concerning the election newspaper in which the candidates introduce themselves, please see the attachment to the voting documents.
We are hoping for a high turnout!
Mainz, 27 January, 2021
On behalf of the election commission
Carina Lang, election commissioner